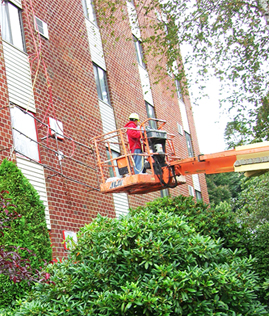 P. F. DePesa & Associates has been involved in many varied construction projects, from residential, commercial, and high-rise construction;
as a master carpenter, superintendent, general contractor, code official, and consultant. The projects I have been involved in range from thousands to multi-millions of dollars. I have estimated and completed millions of dollars' worth of construction projects.

I hold many construction licenses and certifications that range from the Boston ABC to the Mass State Construction Supervisor Licenses as well as certifications in OSHA, Construction Health and Safety, and as a HAZ-Mat Supervisor. I am a National and State Certified Building and Mechanical Official. I have served as a firefighter and Emergency Medical Technician, receiving extensive training in fire prevention techniques, fire resistant construction, fire suppression systems, hazardous materials containment, and life safety codes. I am involved with construction deficiencies as well as with construction accidents and safety issues. Also I go to State Board of Appeals on Code Issues.

I am involved as an envelope consultant for water infiltration on all types of structures as well as all types of siding failures, concrete, stucco, masonry, cement board, and wood; glazing issues and restoration issues.

In the trades, I work on water treatment plants, power plants, high rise structures, and bridges. On behalf of owners, I put together large projects that include assessment, planning, zoning, and construction as well as act as a clerk of the works for high rise projects for Boston Inspectional Services. I also act as a General Contractor for specific clients, constructing restaurants, nightclubs, condominiums, and residential projects; demolition of structures, underground utilities, site asphalt, concrete.

I currently testify as an expert in MA Superior Court including Lowell, Lawrence, Salem, Cambridge, Fall River, Newburyport, Dedham, Suffolk, Westborough, Framingham and Brockton, as well as Franklin Superior Court and Waltham District Court as well as at Arbitration and Mediation Hearings and Zoning Board of Appeals cases effecting construction and safety issues, Land Court Boston, Middlesex Superior Court, and Boston Municipal Court.

Done over 1300 Expert cases to date. Testified Mediation, Arbitration Court 42 times.
Peter F. DePesa, C.B.O.
P.F. DePesa & Associates